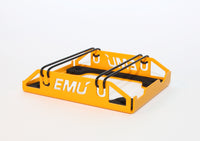 Mounting Bracket for ECUMaster EMU- Powdercoated Yellow
Mount your EMU safely and securely with the ECUMaster Bracket for the EMU! The EMU bracket is made from aluminum that is laser cut and then CNC bent. Each bracket is then powdercoated for a tough, attractive finish. The EMU is secured with a pair of O-Rings that secure it against cushioned foam inserts inside the bracket. The EMU can be accessed or removed easily without the need for tools, and the combination of cushioning foam and elastic O-Rings mean that your computer is protected from mechanical shock and vibration. At only $30, the mounting bracket is an affordable and attractive investment in securing your EMU.
This bracket is for the older EMU only. It will not fit the EMU Classic or the EMU Black.