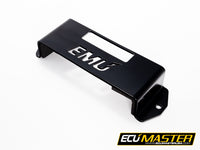 Mounting Bracket for ECUMaster EMU Classic (not for EMU Black)
Mount your EMU Classic safely and securely with the ECUMaster Bracket for the EMU! The EMU bracket is made from aluminum that is laser cut and then CNC bent. Each bracket is then powdercoated for a tough, attractive finish.  At only $30, the mounting bracket is an affordable and attractive investment in securing your EMU Classic.
Please note: THIS BRACKET IS ONLY FOR THE EMU CLASSIC, NOT THE EMU BLACK. The EMU Black has a mounting hole machined into the case that allows you to use a 6mm fastener to bolt the ECU to any surface. A bracket is not required for the EMU Black.