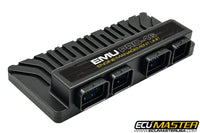 EMU PRO 16 w/connectors & USB to CAN (Save $75)
EMU PRO 16 SHIPS NEXT WEEK
The EMU PRO is a stand-alone engine management system aimed at bringing a comprehensive professional motorsport feature set and vast tuning possibilities to both professionals and the DIY market. It offers precise powertrain control coupled with the ultimate flexibility to adapt the engine calibrations for the most demanding projects. EMU PRO 16 targets applications with more than 8 cylinders or those applications that need additional inputs and outputs.
For up to 8 cylinders or for less I/O functionality see EMU PRO 8 HERE.
Save $75 on this EMU, Connector, and USB to CAN Package
SPECIFICATION:
KEY FEATURES
Advanced fueling model including closed-loop short- and long-term trim algorithms combined with fuel film model gives exceptional accuracy of injectors control.           
The software is designed to give the user unprecedented flexibility of configuration of strategies. The user may adjust the size of all tables in the software and the channels used on each table axis. Bins values on the X and Y axis can be changed too, which increases the accuracy of the table readouts in non-linear parts of the described model.         
Flexible system with custom functions, numbers, CAN inputs and CAN exports, well known from Power Management Unit (PMU) and Advanced Display Unit (ADU).           
Stand-alone sequential gearbox/ paddle-shift advanced strategy, up to 4 closed-loop stages, PWM solenoids control. 
Number of outputs and inputs covering most demanding applications.       
Engine type support – Four-stroke, two-stroke, rotary; up to 12 cylinders.  
Oxygen sensor – 2 x internal LSU 4.9 controller, up to 4 sensors support.  
2 x DBW full support with auto-calibration.   
User-defined table sizes up to 32×32.
Up to 4 VVT channels supported with auto-calibration.         
2 x CAN 2.0A/B, 1 x LIN bus.          
2 x knock sensors.     
Logging to external USB memory.    
Up to 500 Hz data-logging.   
8 x EGT inputs (or high-precision analog inputs).          
Total of 46 outputs and 30 inputs.    
Custom user functions, numbers, tables, and outputs.          
Water resistant IP 65 enclosure, bespoke CNC machined aluminum.          
On-line parameters analysis displayed on the graph log.     
EMU PRO 16 User Manual Coming Soon