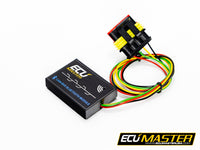 Bluetooth Adapter for ECUMaster EMU Black (CAN Bus)
The CAN Bus Bluetooth Adapter for the ECUMaster EMU Black allows for wireless display of ECU parameters on an Android tablet or phone. This adapter is for use with the CAN version of the EMU (6 pins on the expansion port as opposed to 5 pins on the normal EMU), or with a standard EMU with the CAN expansion module or with the EMU Black. If you have an EMU Classic with the 5 pin expansion port, purchase the serial Bluetooth adapter instead. The Android app allows the customer to customize the style and size of the gauges, as well as deciding which parameters to display. Gone are the days of clumsy gauge pillars and dashboards littered with gauges, as all critical information can be displayed on one device quickly and easily. At $99, the Bluetooth adapter is an incredible value, especially when compared to buying gauges or a racing dash display.
Please note: On Lotus models with a 1 Mbps CAN speed for the Lotus CAN dashboard, the ECUMaster CAN Bluetooth unit we offer operates at 500 kbps which will not work due to the CAN bus speed difference. Instead, we offer the EDL-1 logger as a great addition when purchased with the Lotus EMU Black. The EDL-1 logger has the Bluetooth feature for connecting an Android device to view sensor data from the EMU. The EDL-1 uses the EMU Serial bus instead of CAN to obtain EMU sensor data and also creates a new log file each time the EMU is powered up with a time and date format.
 DOCUMENTS:
CAN BT WIRING INSTRUCTIONS/EMU BLACK SETUP