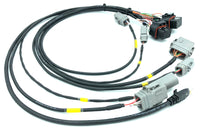 KSV Looms Bench Test Loom for MoTeC M130, M150 Series ECU
Bench Test Loom for MoTeC M130 M150 Series ECU, manufactured by KSV Looms.  This adapter loom is used to power up a MoTeC M130 or M150 ECU on a bench for general testing, sensor translation, firmware updates/changes, and CAN device configuration.
This loom is a great tool for testing and setup that will enable you take your MoTeC M130 or M150 ECU and turn it on with a power supply/battery on a bench without needing to be plugged into vehicle.
If you need to test a new sensor or CAN device, you can use this loom.
Loom is constructed using MIL-Spec M22759/32 Tefzel wire, sheathed in Raychem DR-25, and terminated to genuine connectors.
Nodes on loom are ECU connector x 2, ethernet comms, power, CAN, crank/cam, outputs, analog temp, and ECU analog voltage.
Usage examples;
1)  Test a new sensor or CAN device.
2)  Communicate to and test PDM/PMU and configure CAN messages between the two, and use the ECU to turn outputs of the PDM/PMU on via CAN without needing to be in the vehicle.
3)  Preload firmware and/or a base map into a MoTeC M130/M150 before installing the ECU into the vehicle.
4)  Create your own sensor translation for a new sensor that the ECU does not already have sensor calibration for.
***Please note, there is an assumed understanding on how to work with a bench test loom.  If you are unsure or would like more information before purchasing, please call us or email to sales@ksvlooms.com and we will be happy to answer any questions or provide further information before purchasing.